Friday Face-Off is a weekly meme created by Books by Proxy
and run by Lynn's Book Blog.
This weeks theme:
4th October – "Feed me Seymour"




 – A cover that is 60s horror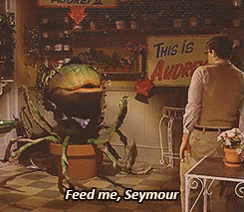 Rosemary's Baby by Ira Levin (1967)
We owe Ira Levin and Rosemary's Baby a great debt. Arriving in 1967, Rosemary's Baby is often cited as the first major spark that ignited the horror boom, giving rise to most of the other titles on this list. If you've seen Roman Polanski's film, then you know the story well: a young couple moves into a new apartment building, and there's more to the kindly old neighbours than one might assume. Rosemary's going to have a baby, you see, and everyone is very excited about the new arrival. Polanski's adaptation doesn't stray far from Levin's source material, but it's worth doubling back to the novel that quite possibly started it all.
—Steve Foxe
Goodreads Summary:
A masterpiece of spellbinding suspense, where evil wears the most innocent face of all…

Rosemary Woodhouse and her struggling actor husband Guy move into the Bramford, an old New York City apartment building with an ominous reputation and mostly elderly residents. Neighbours Roman and Minnie Castavet soon come nosing around to welcome the Woodhouses to the building, and despite Rosemary's reservations about their eccentricity and the weird noises that she keeps hearing, her husband takes a special shine to them. Shortly after Guy lands a plum Broadway role, Rosemary becomes pregnant, and the Castavets start taking a special interest in her welfare. As the sickened Rosemary becomes increasingly isolated, she begins to suspect that the Castavets' circle is not what it seems…
¶I have never seen the movie nor have I read the book. I've never liked horror films and books. They were the furthest thing on my radar growing up. Rosemary's Baby might be something that I probably could watch now but honestly? I will never be able to watch movies like The Exorcist or The Exorcism of Emily Rose because: "I DON'T LIKE TERROR!" Even the new Amityville: The Awakening with Bella Thorne was awful!
Which cover do you like best?
I think I like one with a carriage. My top picks are 20 and 25 or 19.