This is a weekly meme created by Books by Proxy, but kept up by Lynn's Book Blog.
This is a great opportunity to feature some of your favourite book covers. The rules are fairly simple each week, following a predetermined list, choose a book, compare a couple of the different covers available for that particular book and choose your favourite.
This weeks theme
Eyes wide shut – a cover featuring eyes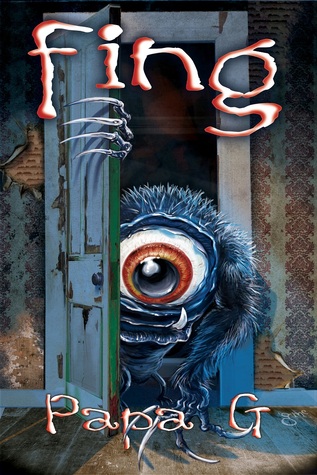 Fing
by Papa G.
Kindle Edition, 104 pages
Published May 11th, 2012 by Booxta
Add to Goodreads | Amazon.ca (It's free with Kindle unlimited)
Ulrich Von Strudel has got no knees, but this is the least of his problems.

Awful, terrible, despicable things are going to happen to this poor boy.
And just when he thinks things couldn't possibly get any worse.
He discovers there's a monster hiding in his closet.

FING is a heartwarming modern fairytale about the benefits of staying positive even when faced with the vile Mrs. Lipstick!
Ha! Fing has been on my kindle for a while and I think it's about time I read it. I don't know why I added it other than it was creepy? Idk but I never paid attention to the blurb until now. I think it would make a great book to read this time of year. Would you look at it? Just look at that eye! Unfortunately, there are no other cover editions but since I am late to the party and falling behind schedule, it was the first book I saw that featured eyes an eye. Sorry, not sorry.
I think the cover says a lot about what you can expect inside. I mean, it's a monster and it's kind of cute? It's furry, blue and has claws. Fing vs Grover? My money's on Fing.