Happy New Year! Check out Sheila@bookjourney to get more details about the first book of the year tradition.
My first book of the year is not what I had hoped for. I wanted to get lost in a fantasy. So far the magic and the dragon aren't doing it for me. The cover looks pretty and has a sort of Beauty and the Beast ring to it. I like the flower ok. I am only in chapter 12, so I will be updating this when I finish, hopefully, with a review perhaps. The lady at Chapters thought it was an alternative to the Bear and the Nightingale which was out of stock. She was just trying to be helpful. I had never seen or heard of Uprooted before but apparently, Naomi Novik is an author of the bestselling critically acclaimed Temeraire novels. The font gives it a high fantasy vibe and I prefer more Urban fantasy, so I knew this was out of my comfort zone.
Paperback, 438 pages
Published March 1st, 2016 by Del Rey (first published May 19th, 2015)
Amazon link 
The Book Depository
"Our Dragon doesn't eat the girls he takes, no matter what stories they tell outside our valley. We hear them sometimes, from travellers passing through. They talk as though we were making a human sacrifice, and he was a real dragon. Of course, that's not true: he may be a wizard and immortal, but he's still a man, and our fathers would band together and kill him if he wanted to eat one of us every ten years. He protects us against the Wood, and we're grateful, but not that grateful."
Agnieszka (pronounced ag-NYESH-Kah)loves her valley home, her quiet village, the forests and the bright shining river. But the corrupted Wood stands on the border, full of malevolent power, and its shadow lies over her life.
Her people rely on the cold, driven wizard known only as the Dragon to keep its powers at bay. But he demands a terrible price for his help: one young woman handed over to serve him for ten years, a fate almost as awful as falling to the Wood.
The next choice is fast approaching, and Agnieszka is afraid. She knows—everyone knows—that the Dragon will take Kasia: beautiful, graceful, brave Kasia, all the things Agnieszka isn't, and her dearest friend in the world. And there is no way to save her.
But Agnieszka fears the wrong things. For when the Dragon comes, it is not Kasia he will choose.
About the author Naomi Novik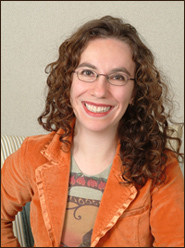 An avid reader of fantasy literature since age six, when she first made her way through The Lord of the Rings, Naomi Novik is also a history buff with a particular interest in the Napoleonic era and a fondness for the work of Patrick O'Brian and Jane Austen. She studied English literature at Brown University and did graduate work in computer science at Columbia University before leaving to participate in the design and development of the computer game Neverwinter Nights: Shadow of Undrentide. Over the course of a brief winter sojourn spent working on the game in Edmonton, Canada (accompanied by a truly alarming coat that now lives brooding in the depths of her closet), she realized she preferred writing to programming, and on returning to New York, decided to try her hand at novels.
Naomi lives in New York City with her husband and six computers. Her website is at naominovik.com