This movie review has a few spoilers
I saw the movie in 3D Imax, but I needed to read the screenplay just to learn more about it. Like who exactly Newt Scamander or Gellert Grindelwald were AND Ilvermony AND MACUSA! But what I didn't like was the politics. Watching it on IMAX was cool, though. And if you liked the style from that era, then you will love it.
I knew of Grindelwald from the Harry Potter series but not much. There was a write up about him in Rita Skeeters book The Life and Lies of Albus Dumbledore. I would've like to read that along with Hermione, 🙂 but what I found was that Newt was a student of Hogwarts who got kicked out for endangering a person with his creatures. At Hogwarts, he played Quidditch and was a chaser.
Newt grew up in England and fell in love with fantastic beasts at an early age. He attended Hogwarts and belonged in Hufflepuff house. He enjoyed learning about the training of magical creatures, as did his close friend Leta Lestrange. But one day, Leta went too far with an experiment that ended up endangering a fellow student's life. Instead of allowing his good friend to get expelled, Newt took the blame for Leta and was expelled in her place.
I wasn't as fascinated by the animals, in fact, some of them were hideous, some others had more promising qualities such as a pick lock aka bowtruckle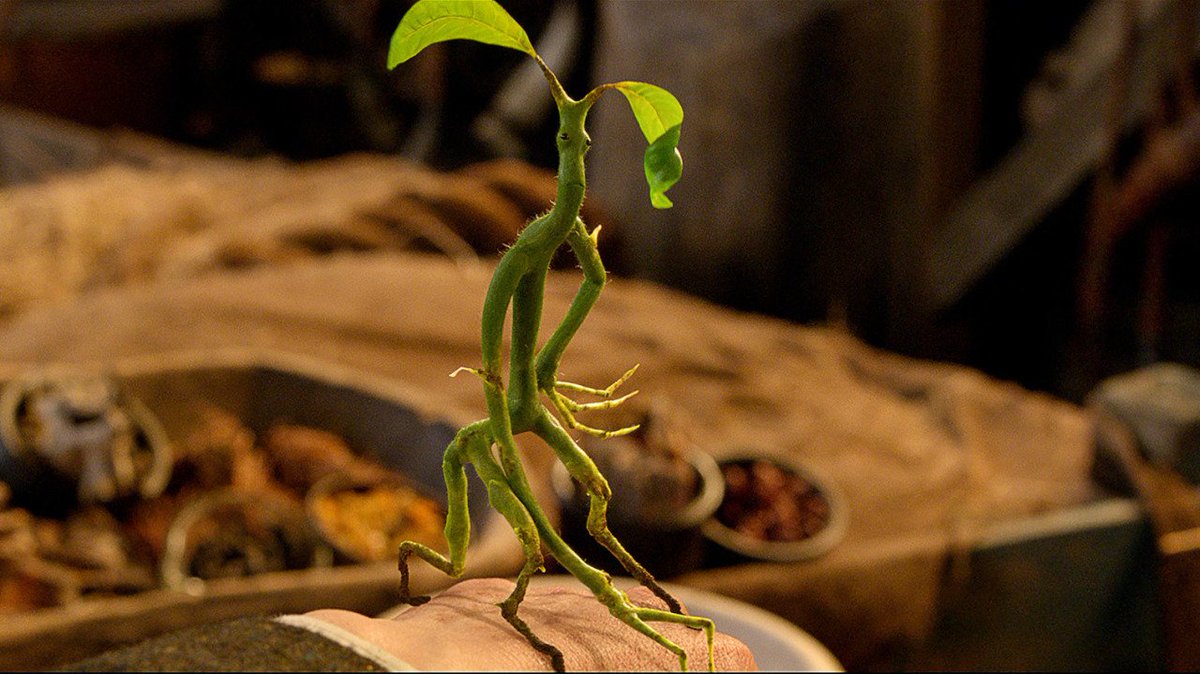 Even in 3D, the beginning of the movie almost bored me to death, and I didn't even care for the creature who loved shiny things! The Niffler.
I know it is probably a favorite for most people but honestly, in my frame of mind, I thought he was more of a mischief maker for stealing and thieving jewelry. I also didn't appreciate the period. 1920's. New York. That era exuberated ridiculous boredom IDK. The bank scene was a bit more fun, but evidently, [spoiler]Newt got his suitcase mixed up with Jacobs [/spoiler] Jacob Kowalski was in the bank to apply for a loan because he had a dream to open up a bakery, but he was rejected. And seeing Newt act nonchalant regarding his suitcase secret full of magical beasts I thought he should've been more careful and guarded it like a hawk. Had Newt learned from his mistake? Apparently not.
He was careless, and when Jacob opens it, some of the beasts escape and he was hurt by a creature who bites him on the neck. Newt didn't obliviate his memories, and that was against the wizarding law, so miss Porpentina flouts him for the violation but the no-maj, man muggle, Jacob, becomes their friend. I found the two girls annoying. Queenie and her sister Tina weren't typical witches with mad wand skills. Queenie was a legilimens, which means she can extract emotions and memories from another person's mind. Tina was not very good at her job as an Auror. She majored in being a blundering idiot. Yes, and wouldn't it be nice just to flick your wand or twitch your nose and let the magic do all your domestic chores for you? I cringed. I mean the only place we saw dishes washing magically was in the Weasley household in the Burrow. That was fun but to see it again in a 1920 New York tenement building was unexpected. Don't get me wrong, one of the things I liked about the movie was the magic spells. But, up until Newt crawled into his suitcase, it was mostly boring. Inside his luggage was a fantastic world full of magical creatures, and there, is where Newt studied the animals and did his work. We see giant insects and bugs, different looking birds, a bowtruckle named Pickett, Erumpents, Lions, and a giant Thunderbird whose name is Frank.
I hope by reading the book all the creatures will come clear. And hopefully, details and plots cleared up as well. I know there are at least three more movies to be made which I am looking forward to seeing.
I don't understand what was wrong with that Mary Lou character. It seemed to me she wanted all wizards burned at stake, something like the Salem Witch Trials. Mary Lou beat her kids and was a total bitch. The Salemers lobbied against wizards and witchcraft. I learned that the boy; Credence Barebone was a wizard who was suppressing his supernatural gift, and it's dangerous not to use those skills. I didn't warm up to the woman president Seraphina Picquery, in the wizarding world of America, until the very last minute. The Macusa is like the ministry of magic and stands for the Magical Congress of The United States of America.Tina's job in the MACUSA was unstable. She said she used to be an Auror? Like, Mad-eye Moody? More background about the Macusa would have been nice.
Dougal is a small yeti creature who can be invisible and is a Demiguise. He was somewhat cute and furry and appeared harmless. He was let loose having escaped Mr. Scamanders suitcase. Oh but there was an Occamy snake-like bird out of the bag also. All these creatures, Newt considered harmless. Like Hagrid would I suppose.
Meanwhile on the dark side of the force lol j/k, there is something called an Obscurus that is destroying the city. Percival Graves is blaming all the destruction on the beasts, [spoiler]but Credence is the Obscurio and has become very dangerous.[/spoiler]
From the books cover flap:
The year is 1926 in the city of New York…

A time and place where the actions of a handful of people…and creatures…will determine the fate of the many. Magizoologist Newt Scamander, newly arrived in town, intends his stay to be just a brief stop-over. However, when Newt's magical case is misplaced, and some of his fantastic beasts escape into the city, it spells trouble for everyone…

Inspired by the first Hogwarts textbook by Newt Scamander, Fantastic Beasts and Where to Find Them marks the screenwriting debut of J.K. Rowling, author of the beloved and internationally bestselling Harry Potter books. Fans of J.K. Rowling's brilliant imagination will recognize her humorous turn of phrase on every page, her incredible vision of a magical universe, and her deep sympathy and understanding for people of all kinds (whether they carry wands or not).
This is epic, adventure-packed storytelling at its very best, and it will take your breath away.
I was determined to read the book to know more about J.K. Rowlings Fantastic Beasts because I honestly didn't appreciate certain aspects of the movie, but I don't hate the book! Yay! Was it a good movie? Having had time to reconsider, after reading the screenplay, I realize it is a fascinating and incredible film. I would recommend that everyone see the movie first. I'm glad I did.
What I liked about the movie were the magic spells and how everyone knew how to Disapparate and Obliviate memories. I loved when Newt used a Petrificus Totalus on Mr. Bingley the bank manager and what Newt needed to do to catch the Niffler.
What I didn't like was the politics and Newt should've kept a closer eye on his pets.
Buy the Book on Amazon(affiliated)
Buy on Book Depository(affiliated)