Coming out of my favorite fantasies like Lord of The Rings, Harry Potter and Game of Thrones are fantastic creatures such as wizards, witches, wolves, and dragons.
AAAaaaah! But I can't make up my mind. I thought about this long and hard and chose one doesn't seem fair when there are so many I like. I am truly stumped and should have been more prepared. Oh well.
I need a summoning charm to bring some more ideas to mind except I can't recall the spell. Is it Accio?
I'm thinking of a wizard like Harry Potter only he's a smart-mouthed wizard whose enemies get even more riled up just by listening to his verbose smart alec ness


Harry Dresden is a supernatural private investigator Wizard who gets into all kinds of trouble working to catch the bad guys putting them out of commission. Those kinds of jobs can only be done by the great Harry Dresden.
The Harry Dresden book series written by Jim Butcher is very formidable, sometimes frightening and usually pretty dangerous. There are encounters with major menacing creatures too.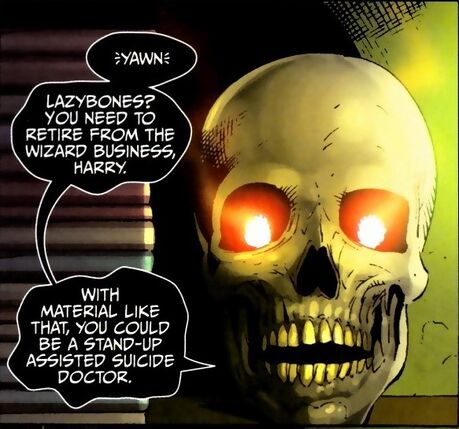 Harry Dresden acquires a Skull that can talk and is known for his indispensable wisdom because he knows everything about magic there is to know and is quite funny. He names him Bob, but in actuality, he looks like James Dean with a leather jacket but is a spirit of intellect who is trapped inside the skull having been cursed by someone I can't remember, but he lives quite posh with big full television screens, a comfortable sofa in his penthouse living room.
What is your favorite spooky creature? I am taking part in the September Spooky Challenge hosted @parajunkee.com. Day 4.